I was invited last week to appear on one of the biggest Indian television game shows 'Kaun Banega Crorepati' or KBC. Sony Entertainment Television and KBC wished to promote organ donation through the NGO called MOHAN Foundation. I, being the founder and managing trustee of MOHAN Foundation, was invited as a 'Karamveer'.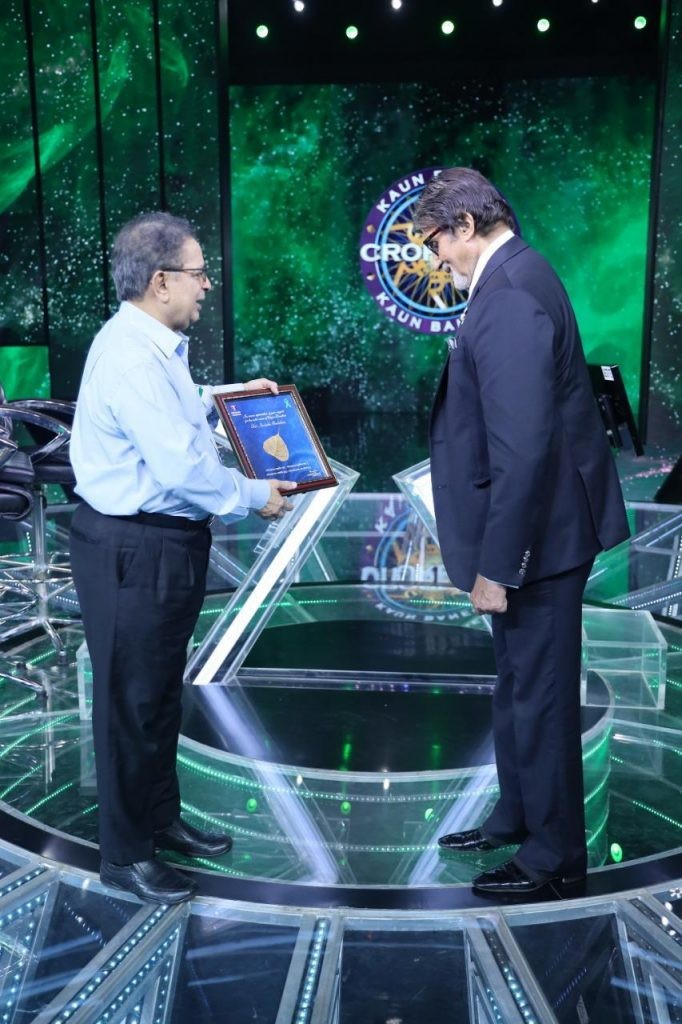 MOHAN Foundation has been working to promote this noble cause, which is so close to my heart for the last 24years and has helped change the course of organ donation in India. The episode was selected as a special event on the eve of the birthday of Mr.Amitabh Bachchan, who has been hosting the show for the last 20 years.
The journey of MOHAN Foundation has certainly not been easy. The concept of organ donation is not something that is usually discussed by families as it is considered somewhat morbid, and its inherent power to save multiple lives is often never given any consideration.
When we first started there were many who believed donation after brain death was going to be impossible in India,the country being a multi-religious and multi-cultural society with so many myths. And above all most doctors seemed disinterested working in hospitals not necessarily having the right or adequate infrastructure or manpower to handle something as complex as donation after brain death, which had so many steps before it could happen. If there is one thing the Foundation can be proud of having achieved is creating a belief among many in the medical fraternity that donation after brain death in possible in India. The number of organ donations after brain-death has certainly gone up in the last 10 years from less than 100 in the year 2010 to almost 900 today. Not many for a large country like India, but still progress and these donations resulted in over 2500 lifesaving organs like heart, lungs, liver, kidneys, pancreas, hands, and many tissues like cornea, skin and bones.
When I first received a call in the month of February from the KBC team, it seemed like a huge opportunity to promote organ donation on a popular national platform with the best known celebrity in India. However, with arrival of COVID everything changed. No one called me till the third week of August and they wanted me to come to Mumbai for the shoot in last week of September. I asked them about COVID, travel restrictions and the health of Mr.Bachchan, who himself had tested positive and had been admitted in hospital. They said he was raring to go and would be in action. I then asked my medical colleagues in Chennai and Mumbai if I should be travelling to Mumbai and they all said Tamil Nadu and Maharashtra were the two worst hit states with COVID and asked me to drop out. I finally asked my family, they too seemed reluctant,however my wife Shaila was supportive and gave me the courage to say yes for the travel and the shoot. I had witnessed many COVID victims and some deathsof my own colleagues and patients. The unpredictable outcome after contracting the virus is a fear of the unknown. But this was an occupational hazard of a profession I had chosen and in the back of my mind, I knew that as a surgeon, I had got poked a few times during surgery and could have picked up some unknown viruses and what not. My fear and concern of increasing my risk of contracting COVID was more for my loved ones who lived with me in the same house rather than myself.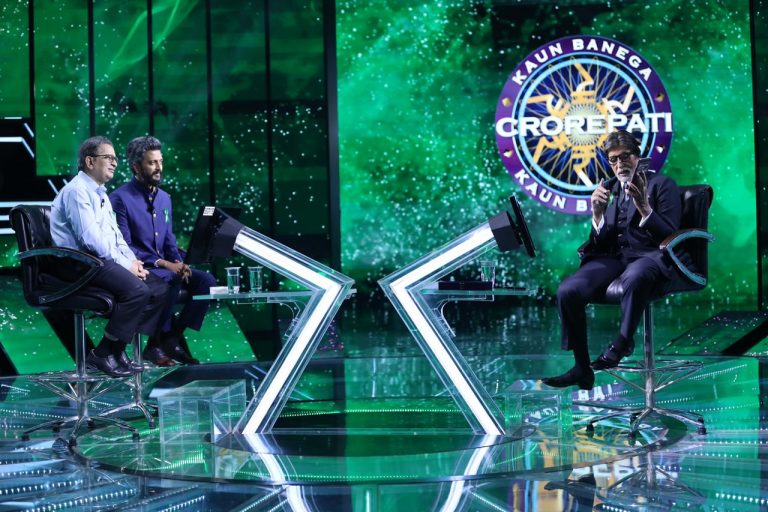 Once I decided, we started the task of providing the KBC team with all the material they required for the show. Their team was supposed to travel to various locations for the shoot, but at the last moment they said that this was not possible due to COVID and they could shoot only in one location and the other shoots we should do it ourselves. This disappointed many families and well-wishers of the cause who were expecting to be shot by a professional team. However, these are not normal times and it was understandable. The MOHAN Foundation team worked extremely hard and complied with all the shoots and requirements.
I reached Mumbai on Sunday afternoon for a shoot on Monday. The whole afternoon, I sat with their team in the hotel room looking through "various material" that they would use for the episode. I decided to hit the bed early but I hardly managed to get decent sleep because my room temperature was set at 23 degrees Celsius and I did not realise it till the early hours of the morning.
I was picked up from my hotel at 9 am and was on the sets soon. It was my first time on any such show and I was quite bemused to witness a totally different world. But many of the staff were wearing the blue theatre gowns and masks and I was reminded of my own very familiar hospital surroundings and the operation theatres, where I had spent more than half my life. Everyone on the set was very welcoming and friendly.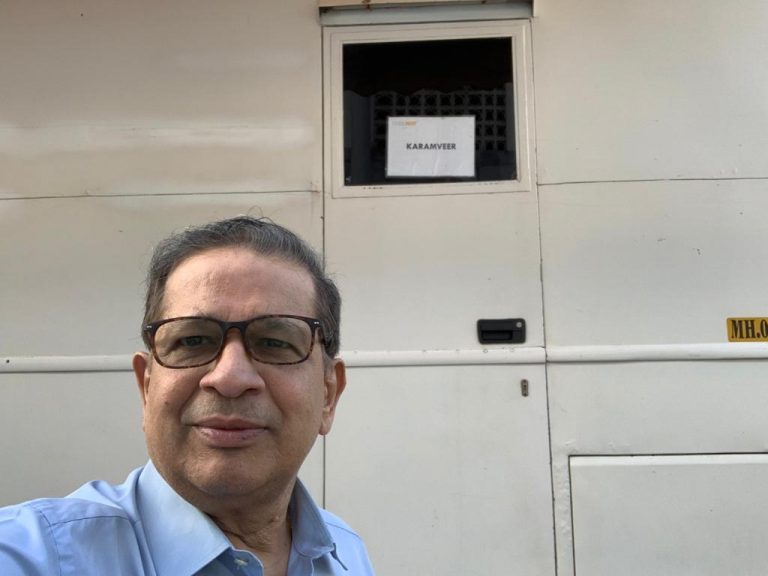 Outside the studio there were various caravan like vans parked which were called vanity vans for the actors and there was one for me with the label pasted and it said Karamveer! They asked me to relax inside the van and get ready for the shoot. The vanity van had two small rooms and a washroom. It looked very comfortable and well maintained. I had a quick coffee and put on my Nehru Jacket on top of the shirt and was ready in less than 5 minutes but soon arrived a cameraperson to check out my dress and rejected both my shirt and the jacket saying it would shine. I showed him some other shirts and he rejected all of them. I felt a bit upset but in the end he let me wear my blue shirt without a jacket. This was my first test that I passed with difficulty and there were many more lined up ahead!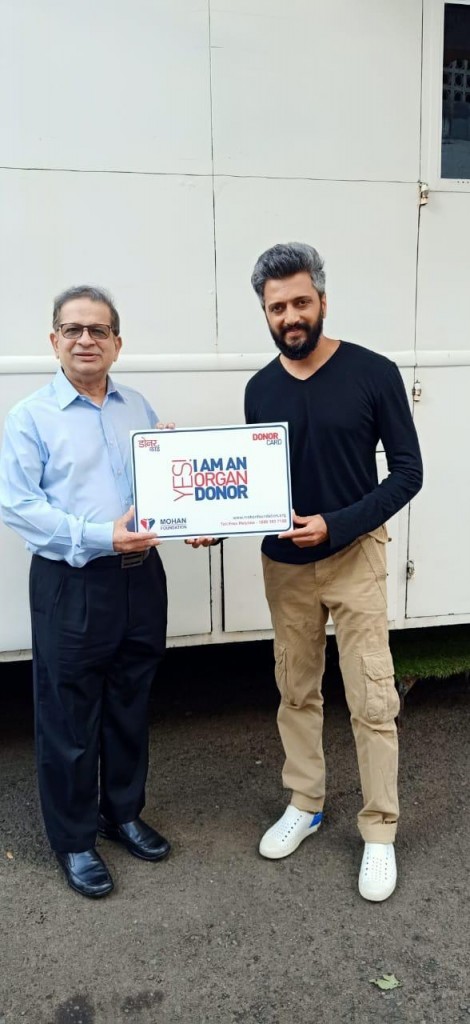 I was joined in this episode by actor Riteish Deshmukh, a Champion of the Cause. Riteish and his wife Genelia had recently decided to pledge to donate their organs. I met Riteish and exchanged pleasantries and we were asked to do a mock run of the quiz show. The first few questions were fairly easy but then as we climbed higher the questions became quite tough and at Rs.3,20,000 we ran out of luck and answered it wrong and so it was the end of the mock quiz. My fears had come true, this is what I had worried about from the time I had received the invite to the show. These quiz shows require long preparation over months and years and I was not the best person for something like this. And in my heart, I knew it was not going to be a cakewalk.
At a quarter past twelve we met Mr. Bachchan briefly and he looked in good health. He was very encouraging of the work of the Foundation and seemed to have researched our work well. And soon we were called on the show to go live, the moment was starting to happen -Lights, camera and action as they always say is so true plus music here.
I looked at my watch and it was just after half past twelve. I thought we should be done by three in the afternoon and I was thinking in my mind that perhaps I could take an evening flight home, not really wanting to spend another uncomfortable night in my hotel bed. Little did I know that the show would only end by half past four and then there would be another half an hour of interaction with their social media team..
Once we were on the hot seat, there was a detailed discussion on all aspects of organ donation including the process in the hospital, the difficulties, the lack of awareness and the gap between demand and supply of organs in India. He asked me what made me start the Foundation and so many memories came flooding back to me. The days in Patna where I studied, Jai Prakash Narayan's struggle against kidney failure, the days in England – the taunts I used to receive from my well-meaning English colleagues about organtrade in India. My lovely daughter Ruchi who carried home an Organ Donor Card from her school at the tender age of nine and signed on it.The light in the eyes of organ failure patients and their family members.Then how we started our work.The training being conducted by Dr.SumanaNavin, the different states that were being helped including Andhra Pradesh that was led by Mrs. LalithaRaghuram. I spoke about the role of the helpline that was being spearheaded by Dr.HemalKanvinde. The champions in the program like Mr.Sudhir Dewan from Chandigarh and Dr.Ravi Wankhede from Nagpur. I was wondering in my head how do I encapsulate my 30 years in this field in just about five minutes. I had brushed up my Hindi a little, thanks to Shaila, who is a postgraduate in the language and Dr.Anirban Bose – the best storyteller I have personally known and who runs the MOHAN USA operations.
The only moments which made me a little anxious were when the questions came up, again the anxiety was not for the final pot of money that we would win but the thought that a wrong answer would mean prematurely aborting the show and the message of organ donation would only be half said. Thanks to Dr.Navin Jayakumar and ArchanaGarodia for their help with some questions. After that it was a bit of luck, some guesswork and taking a calculated risk – that I live with as a surgeon.
The best part was the sets turning green and Mr. Bachchan wearing the green ribbon along with us to spread the message of organ donation. At that moment what flashed through my mind were the efforts of PallaviKumar in Delhi, Bhavna Jagwani in Jaipur and Jaya Jairam in Mumbai who had worked so hard to get national monuments and landmarks lit up in green during the organ donation week two years back to promote the cause . The colour green and the 'Green Ribbon' symbolizes hope for those who are waiting for a second chance at life through transplantation. It reminds us of the men, women and children who have died waiting for a lifesaving transplant. It embodies our gratitude to donors and their families for giving the greatest gift of all, the gift of life.
One message that comes out loud and clear is 'Please don't fear your death, just spare a thought about organ donation and take a personal call on this subject.' More Info…